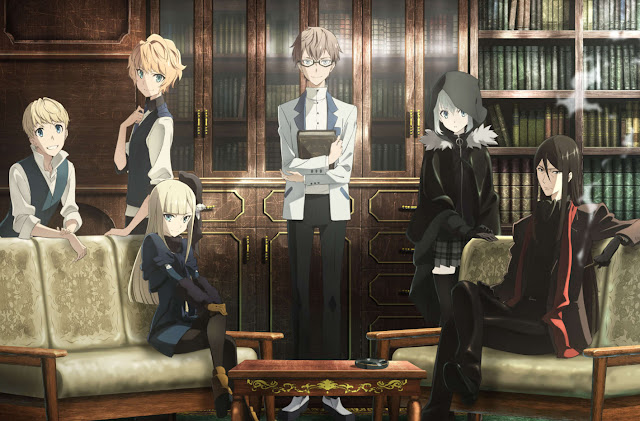 Lord El-Melloi II-sei no Jikenbo Rail Zeppelin Grace Note Subtitle Indonesia
Donlod nonton streaming video, otakudesu, meownime, anitoki, meguminime, melody, oploverz, kusonime, neonime, maxnime, animeindo, samehadaku, streaming, otakupoi, awsubs, neonime, anoboy, nimegami, unduh, riie net, drivenime, anibatch, anikyojin, nekonime, kurogaze, vidio google drive, Muse Indonesia.iQIYI, Viu Muse Indonesia, Ani-One Asia, Netflix, Animenonton, Otaku desu, Mangaku, Anibatch,Vidio, Genflix, Amazon Prime Video.
Informasi Anime
Judul :

Lord El-Melloi II-sei no Jikenbo Rail Zeppelin Grace Note

Episodes :

1 s/d 13

Studio :

TROYCA

Source :

Light Novel

Durasi :

23 Menit

Genre :

Fantasy, Mystery, Supernatural

Score :

7.5
Synopsis Lord El-Melloi II-sei no Jikenbo Rail Zeppelin Grace Note
Lord El-Melloi II-sei no Jikenbo Rail Zeppelin Grace Note atau dikenal The Case Files of Lord El-Melloi II adalah seri novel ringan Jepang yang ditulis oleh Makoto Sanda (Rental Magica) dan diilustrasikan oleh Mineji Sakamoto. Secara resmi merupakan bagian dari seri Fate, serialisasi ini dimulai dengan Type-Moon di bawah cetak Type-Moon Books pada 30 Desember 2014 hingga 17 Mei 2019. Novel-novel tersebut diatur antara peristiwa Fate / Zero dan Fate / stay night, dengan fokus pada Lord El-Melloi II, seorang mantan guru yang sekarang menyelidiki beberapa misteri setelah partisipasinya dalam Perang Cawan Suci Keempat. Dua adaptasi media secara resmi dibuat: adaptasi manga oleh Makoto Sanda dengan ilustrasi dari Tō Azuma memulai serialisasi di majalah Young Ace Kadokawa Shoten pada tanggal 4 Oktober 2017 dan adaptasi anime oleh Troyca, yang mengadaptasi bab Rail Zeppelin, ditayangkan mulai 6 Juli hingga 6 Juli. 28 September 2019. Menceritakan pada 10 tahun setelah peristiwa Fate/Zero dan 2 bulan sebelum peristiwa Fate/Stay Night, kisah ini berfokus pada Lord El-Melloi II, yang sebelumnya dikenal sebagai Waver Velvet, penerus Kayneth dan mantan master di Grail terakhir. War, yang sekarang menjadi profesor di bawah jajaran Asosiasi Mage. Dalam tahun-tahunnya sebagai profesor di Menara Jam, ia bertindak sebagai kepala sementara rumah tangga El-Melloi sampai seorang penerus yang tepat dapat mengambil alih. Tetapi ketika misteri aneh yang melibatkan sihir mulai terjadi di sekitar London, ia bergabung dengan orang misterius dan magang bernama Gray dalam menyelesaikan banyak misteri dan kasus yang melibatkan magecraft dan konspirasi tersembunyi yang menggerakkan Asosiasi Penyihir.
Tampilkan Komentar